This post is a summary of content from papers covering the topic, it's mostly quotes from the papers from 1983, 1993 and 1997 with some edition, references to the present and future depend on the paper but should be easy to deduce. See the Sources section at the end.
In 1981, the emergence of the government-industry project in Japan known as Fifth Generation Computer Systems (FGCS) was unexpected and dramatic.
The Ministry of International Trade and Industry (MITI) and some of its scientists at Electrotechnical Laboratory (ETL) planned a project of remarkable scope, projecting both technical daring and major impact upon the economy and society.
This project captured the imagination of the Japanese people (e.g. a book in Japanese by Junichiro Uemae recounting its birth was titled The Japanese Dream).
It also captured the attention of the governments and computer industries of the USA and Europe, who were already wary of Japanese takeovers of important industries.
A book by Feigenbaum and McCorduck, The Fifth Generation, was a widely-read manifestation of this concern.
The Japanese plan was grand but it was unrealistic, and was immediately seen to be so by the MITI planners and ETL scientists who took charge of the project.
A revised planning document was issued in May 1982 that set more realistic objectives for the Fifth Generation Project.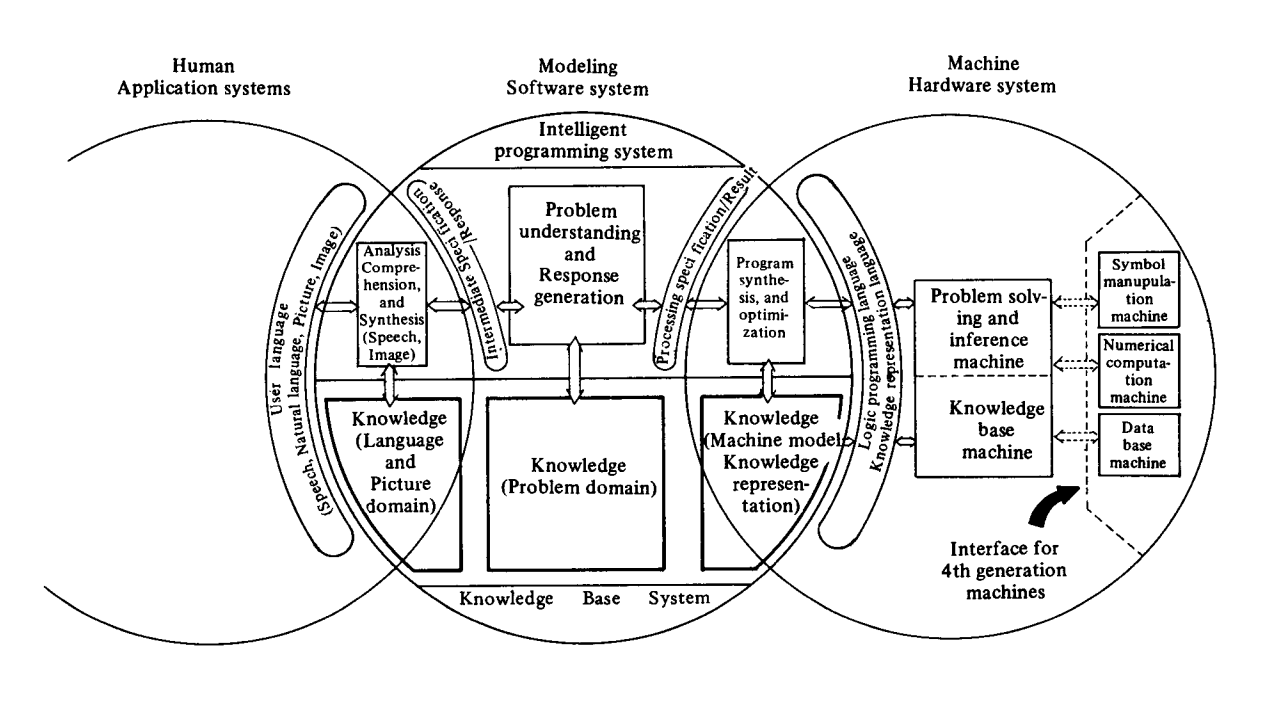 First generation: ENIAC, invented in 1946, and others that used vacuum tubes.

Second generation: IBM 1401, introduced in 1959, and others that used transistors.

Third generation: IBM S/360, introduced in 1964, and others that used integrated circuits.

Fourth generation: IBM E Series, introduced in 1979, and others that used very large-scale integrated circuits, VLSI which have massively increased computational capacity but are still based on the Von Neumann architecture and require specific and precise commands to perform a task.
FGCS was conceived as a computer that can infer from an incomplete instruction, by making use of the knowledge it has accumulated in its database.
FGCS was based on an architecture distinct from that of the previous four generations of computers which had been invented by Von Neumann and commercially developed by IBM among others.
Increased intelligence and ease of use so that they will be better able to assist man. Input and output using speech, voice, graphics, images and documents, using everyday language, store knowledge to practical use and to the ability to learn and reason.

To lessen the burden of software generation in order that a high level requirements specification is sufficient for automatic processing, so that program verification is possible thus increasing the reliability of software. Also the programming environment has to be improved while it should also be possible to use existing software assets.

To improve overall functions and performance to meet social needs. The construction of light, compact, high-speed, large capacity computers which are able to meet increased diversification and adaptability, which are highly reliable and offer sophisticated functions.
The objective of this project is to realise new computer systems to meet the anticipated requirements of the 1990s.
Everybody will be using computers in daily life without thinking anything of it. For this objective, an environment will have to be created in which a man and a computer find it easy to communicate freely using multiple information media, such as speech, text, and graphs.
The functions of FGCSs may be roughly classified as follows:
Problem-solving and inference

Knowledge-base management

Intelligent interface
The intelligent interface function will have to be capable of handling man/machine communication in natural languages, speeches, graphs, and images so that information can be exchanged in a way natural to a man.
There will also be research into and development of dedicated hardware processors and high-performance interface equipment for efficiently executing processing of speech, graph, and image data.
Several basic application systems will be developed with the intention of demonstrating the usefulness of the FGCS and the system evaluation. These are machine translation systems, consultation systems, intelligent programming systems and an intelligent VLSI-CAD system.
The key technologies for the Fifth Generation Computer System seem to be:
VLSI architecture

Parallel processing such as data flow control

Logic programming

Knowledge base based on relational database

Applied artificial intelligence and pattern processing
Realisation of basic mechanisms for inference, association, and learning in hardware, making them the core functions of the Fifth Generation computers.

Preparation of basic artificial intelligence software in order to fully utllise the above functions.

Advantageous use of pattern recognition and artificial intelligence research achievements, in order to realise man/machine interfaces that are natural to man.

Realisation of support systems for resolving the 'software crisis' and enhancing software production.
It will be necessary to develop high performance inference machines capable of serving as core processors that use rules and assertions to process knowledge information.
Existing artificial intelligence technology has been developed to be based primarily on LISP. However, it seems more appropriate to employ a Prolog-like logic programming language as the interface between software and hardware due to the following considerations: the introduction of VLSI technology made possible the implementation of high level functions in hardware; in order to perform parallel processing, it will be necessary to adopt new languages suitable for parallel processing; such languages will have to have a strong affinity with relational data models.
Research and development will be conducted for a parallel processing hardware architecture intended for parallel processing of new knowledge bases, and which is based on a relational database machine that includes a high-performance hierarchical memory system, and a mechanism for parallel relational operations and knowledge operations.
The knowledge base system is expected to be implemented on a relational database machine which has some knowledge base facilities in the Fifth Generation Computer System, because the relational data model has a strong affinity with logic programming.
Relational calculus has a close relation with the first order predicate logic. Relational algebra has the same ability as relational calculus in the description of a query. These are reasons for considering a relational algebra machine as the prime candidate for a knowledge base machine.
There is no precedent for this innovative and large-scale research and development anywhere in the world. We will therefore be obliged to move toward the target systems through a lengthy process of trial and error, producing many original ideas along the way.
For computers to be employed at numerous application levels in the 1990s, they must evolve from machines centered around numerical computations to machines that can assess the meaning of information and understand the problems to be solved.
Non-numeric data such as sentences, speeches, graphs, and images will be used in tremendous volume compared to numerical data.
Computers are expected to deal with non-numeric data mainly in future applications. However, present computers have much less capability in non-numeric data processing than in numeric data processing.
The key factors leading to the necessity for rethinking the conventional computer design philosophy just described include the following:
Device speeds are approaching the limit imposed by the speed of light.

The emergence of VLSI reduces hardware costs substantially, and an environment permitting the use of as much hardware as is required will shortly be feasible.

To take advantage of the effect of VLSI mass production, it will be necessary to pursue parallel processing.

Current computers have extremely poor performance in basic functions for processing speeches, texts, graphs, images and other nonnumerical data, and for artificial intelligence type processing such as inference, association, and learning.
The research and development targets of the FGCS are such core functions of knowledge information processing as problem-solving and inference systems and knowledge-base systems that cannot be handled within the framework of conventional computer systems.
With the Fourth Conference on Fifth Generation Computer Systems, held June 1-5, 1992 in Tokyo, Japan, an era came to an end.
This section quotes different people analyzing the results, it won't be fully consistent
Since then ten years have passed in which ICOT grew to about 100 researchers and spent about 54 billion Yen, that is some 450 million US$. In these ten years a large variety of machines have been built ranging from the special purpose PSI machine, that is a personal sequential inference machine, to several constellations of processors and memory ranging from 16 to 512 processing elements together forming the PIM family, that is the Parallel Inference Machine.
The one commercial use we saw of the PSI machines was at Japan Air Lines, where the PSI-II machines were employed; ironically, they were remicrocoded as Lisp Machines.
This section has no quotes from sources, these are my observations:
I find that for every thing you can point as a reason for its "failure" there's an alternative universe where you could point to the same things as reasons for its success.
For example:
Starting from scratch

Thinking from first principles

Radical changes to the status quo

Single focus

Vertical integration

Risky bet on nascent technologies

Specialized Hardware
The only reason that is clearly negative is that the demo applications were not developed with real use cases and involving real users, that may have made it harder to show the value of FGCS to end users and industrial partners.
It would be easy to mention Worse is Better but if it keeps coming up as a reason, maybe we should pay more attention to it?
My conclusion right now is that technically they achieved many of the things they planned, they succeeded at going where they thought the puck was going to be in the 90s but it ended up somewhere else.
What's your conclusion?